…and in the corner she sees a group of…
Tell me what she sees in the comments!
…Aisha!
All it took was one vote to choose Aisha as the preferred spelling of the name, beating Ayesha. There wasn't much love for the Aicha spelling, only 11% voted for it.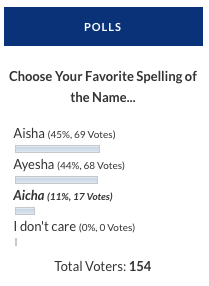 Thank you all for voting! You'll be seeing Aisha in an urban fantasy releasing in January 2018. 
A few weeks ago, author E.P. Wyck asked in a Facebook group if anyone was interested in doing a 12 weeks to a trilogy in the Chris Fox method.
I was and I joined the group.
For my accountability post this is all I wrote:
I didn't outline it. I have a vague idea of where I want to go with Book 1. I'm confident I can figure out where I want to take the next two books after that.