NOW AVAILABLE FOR PRE-ORDER – MAGIC RUNES
Meet Carmen Vilaro: rune witch and black sheep of her family.
When Carmen successfully removes a spell from a bewitched human, she never thought she would get ensnared in an ongoing Supernatural Bureau of Investigation case. Add an annoying (but hot) SBI agent and her life is getting more difficult by the day. Can she help the SBI without exposing her identity?
If you enjoy stories filled with supernatural creatures, magic and mystery, and a sprinkle of romance in an urban fantasy setting, this is the book for you!

FALL OF MAGIC (REALMS OF POWER VOL. 1)
My short story 'Ghostly Magic' appears in FALL OF MAGIC, an urban fantasy anthology. 
Magic and mystery. Witches and demons. Dragonborn and goddesses.
Forces of power clash, threatening worlds, and destroying lives. Heroes and heroines must step up to the challenge to save the gifted and mundane alike.
Devour 16 all-new urban fantasy stories in this exclusive anthology from best-selling and award winning authors.
Readers who love The Dresden Files and The Hollows will revel in the tension and imagination in Fall of Magic.

A SWORD OF FORTUNE AND FATE (Dare Valari Book 1)
Noblewoman. Troublemaker. Exile.
I am Lady Dare Valari and I am being hunted.
Exiled from my home at the castle, cut off from family and friends, I fled to the Blights, the last place in the kingdom anyone would run to. In exchange for allowing me to remain in his territory, the dangerous outlaw Blaze has tasked me with guarding his sister, Penny, from unknown attackers.
Now I have to dodge two teams of assassins while also trying to keep Blaze from learning the truth-that the man after me is none other than Prince Jasper, the most powerful man in the kingdom.
With only my sword beside me, I need to find a way to save Penny and myself without revealing all my secrets.

A SWORD OF SHADOWS AND LIGHT (Dare Valari Book 2)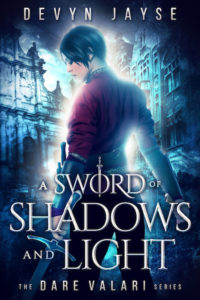 There's a killer loose in the Blights. And it's not the prince that's hunting me. No, he only wants me dead.
Women across the Blights are being murdered in horrific ways. I didn't want anything to do with it, I have enough problems of my own, but when the killer targets someone close to me, it's up to me to find the person responsible for those heinous crimes.